A lot can happen in a year.
This time last year, I was coming out a serious medically induced slumber, after having had (another) surgery to repair the tendon in my left ankle.
I can clearly recall having driven up to Baltimore the day before the surgery. The Hubs and I spent the night in the Hotel Monaco in Baltimore. We ate like kings are the B&O America Brasserie, and yes, I did exclaim, "Oh, like in Monopoly!" as we entered under the shiny brass plated train face affixed to the front of the restaurant.
After dinner, which most likely included a steak, fries, and some wine, I took a long, overheated shower. It was going to be my last for the foreseeable future, so I had to make it count.
I grabbed a few hours of sleep before the pinging of our iPhones had us up and on our way to the surgery suite at MedStar Memorial Hospital.  For those of you who have been fortunate enough to have never had surgery, or have never had to wait for someone who has had surgery, there is quite a bit of hurry up and wait going on.
You hurry to get there on time.
You wait to be called back.
You hurry over to the admitting desk to fill out paperwork.
You wait in some uncomfortable chairs, idly flipping through magazines from weeks, even months ago.
You hurry over to the bored orderly who wheels you into the prep suite.
You wait while you're handed a skin-chafing gown, the only evidence that it was ever made out of cotton is because it says so on the label.
You hurry to and from the bathroom half a dozen times because your nerves are inexplicably tied to your bladder, so you're shuttling in and out of the restroom like a toddler in the midst of potty-training.
You wait for the butterflies in your stomach to stop doing their pas de deux and hurry back over to your curtained off section of the suite so that the nurse can go over your chart — the reason you're laid up on the hospital issued Craft-Matic adjustable bed — your skin pimpled with goose bumps because they keep it at what feels like a frosty 48 degrees in there.  You wait will your blood pressure, pulse ox, and temperature are recorded.
You hurry over to the plastic chair beside your bed to fish out your phone while the nurse steps out to check on the man in the bed beside you. You can't see him, but you can hear him elucidate extensively about the reason he's here (4th rotator cuff surgery), whether or not he had breakfast (yes), what it was (coffee and cigarettes), and how they better send in his daughter because she's got his clothes (and he's going to need them to go home).
You wait for the nurse to return with your husband, but when she does, she's alone.
You hurry back to the bathroom to pee.
You wait for your doctor to come check on you, your husband (finally) sitting the plastic chair, your worldly possessions in a hospital issued clear plastic bag.  Despite the reassuring pressure of his hand in yours,  you wonder aloud if it's too late to back out.
And when the doctor comes in, devoid of his usual suit and bow tie, shit gets real.  He tries to crack wise, saying, "Now remind me which leg it is?" and your stomach does a triple salchow when you realize he's serious. You take the sharpie from his outstretched hand, sign your initials beside the crescent shape scar that hugs your ankle, take out your contact lenses and kiss your husband good-bye.
The surgical suite is a frozen tundra compared to the balmy temps of the prep suite.  You can't see anything, your myopia distorting everything into amebalike shapes.   The team slings you onto the table, your backside taking a blast of cold air right on the cheeks as your gown flaps open during the transition. You've had three kids; a marching band could roll through here, NBD.
Once situated, the anesthesiologist promises to give you something to "take the edge off". You've heard that before. The last surgery, the anesthetist said, "What I'm going to give you is going to feel like drinking a whole six-pack at once." Those anesthetists are amazing, God bless 'em.   This doc sitting up at your shoulder starts the drip.
"It burns," you say as the cocktail snakes into your IV.
"Oh, I can fix that!" comes the reply. Cut to black.
After that, I woke up. I was bandaged from knee to toes, cotton-mouthed, unable to see and of course, needing to pee.  I can remember the post surgical team asking me questions about where I lived and what I did to bring me out of my stupor. I'm pretty sure I pitched them "Maggie Sinclair, Will You Please Fix Your Hair?".
An hour after surgery, I was in the car.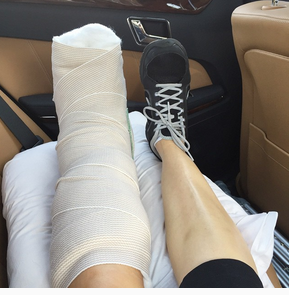 For the next several days, I was confined to bed to recuperate.
As the days rolled into weeks, I got down to the business of physical therapy.  Daily squats, five times a day for twenty minutes at a time.  I kept the wound dry and elevated it as much as possible.
I had a set back that landed me in the hospital for five days, missing V's birthday.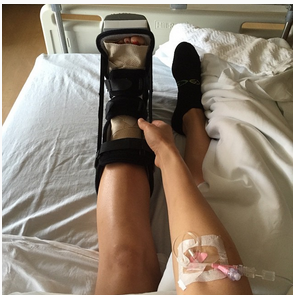 I rallied and doubled down on the PT.  Stronger every day became the mantra.
As the calendar pages flipped from summer months into the fall, I pushed and I worked. I got back into the gym, pacing myself to prevent setbacks.  I drove up to Baltimore every other month — 3 hours up, 1 hour waiting to be seen, 8 to 12 minutes with the doc, 3 hours back — through Thanksgiving.  I slid into two flat shoes into the fall, heels by the end of the year.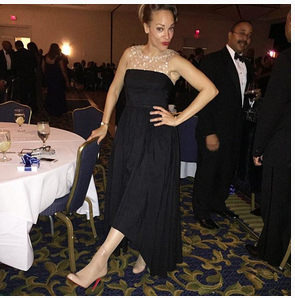 I started running in earnest shortly after Christmas (it was 70 degrees) in preparation for the Monument Ave 10K in April.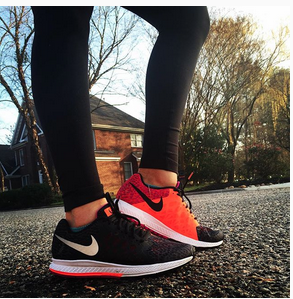 I lined up in wave VA on April 9th at 9:22 am and crossed the finish line at 10:23am — 9:41 minutes per mile — 4 days shy of the 1 year anniversary of my final ankle surgery.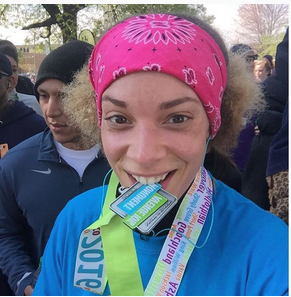 Despite all of the work I have done this past year and have been able to do thanks to my amazing doc, my ankle will never been the way it was before I got hurt.  It is my new normal. If this past year is any indication, however, I'm crushing the hell out of it.
What milestones will you be celebrating this year? Tell me about it in the comments!