I'm a sucker for unique packaging. I like minimalist backgrounds, pops of color, and fonts that look like giggles and tickles. I saw this on the shelf at The Fresh Market the other day.
Usually, when I grocery shop, I try to stick to the list I've prepared.  For the most part, my cart is full of produce and fresh foods. I try to keep the packaged foods to a minimum.  Like I said, however, I'm a sucker for packaging.  I mean, look at this box! Let's break down why I find it so appealing.
1. Marion's Kitchen  — one of my grandma's was named Marion. She didn't cook, though.
2. Pad Thai — Um, delicious much?!
3. Black and White Photo of a smiling woman — Black and white photography is a favorite style of mine.  As for the woman, well, I don't know her, but that grin says, "Yes! You can make Pad Thai in two easy steps and it will be incredible! Look at my smile! It says you are a Top Chef and Asian cuisine is your specialty!" Well, maybe it doesn't say all that, but it's implied.
4. The text  — I don't know the font, but I know it's not Comic Sans.  2 steps for 2-4 people in 20 minutes? What's not to like? The promise of quality ingredients? Well, since you're supplying them yourself, you've got control over that.
It's no surprise this box made it from the shelf to the cart to my kitchen counter. Even though we are in the midst of grilling season, I took a break from searing steaks and I served this dish along with some Trader Joe's Asian Cousin — Trader Ming's — favorite side dishes: potstickers, cha siu bao, and scallion pancakes.  With a head of steamed broccoli for some additional color and nutrition, I had a complete meal in a little over 20 minutes.
As far as the flavor profile, it was certainly evocative of pad thai. All of the elements were there: chicken, rice noodles, scallions, egg — I even added some crushed peanuts on top for crunch.  My noodles weren't as soft and slippery as you would find a traditional Thai restaurant, nor was my chicken sliced as thinly. Both of those kitchen tricks come with practice. The flavor of the sauce was sweet and tangy, but again, not exactly identical to the pad thai sauce I've had in restaurants.  We certainly ended up with more than 2-4 servings, which I was happy to share with my parents when they came to visit the following day.  Much like it's cousin, Chinese take-out, this Pad Thai was even better the second day.
With other dishes like Butter Chicken and Red Thai Curry, looks like Marion has a few other things cooking in her kitchen.  Maybe I will, too.  Happy Friday, y'all!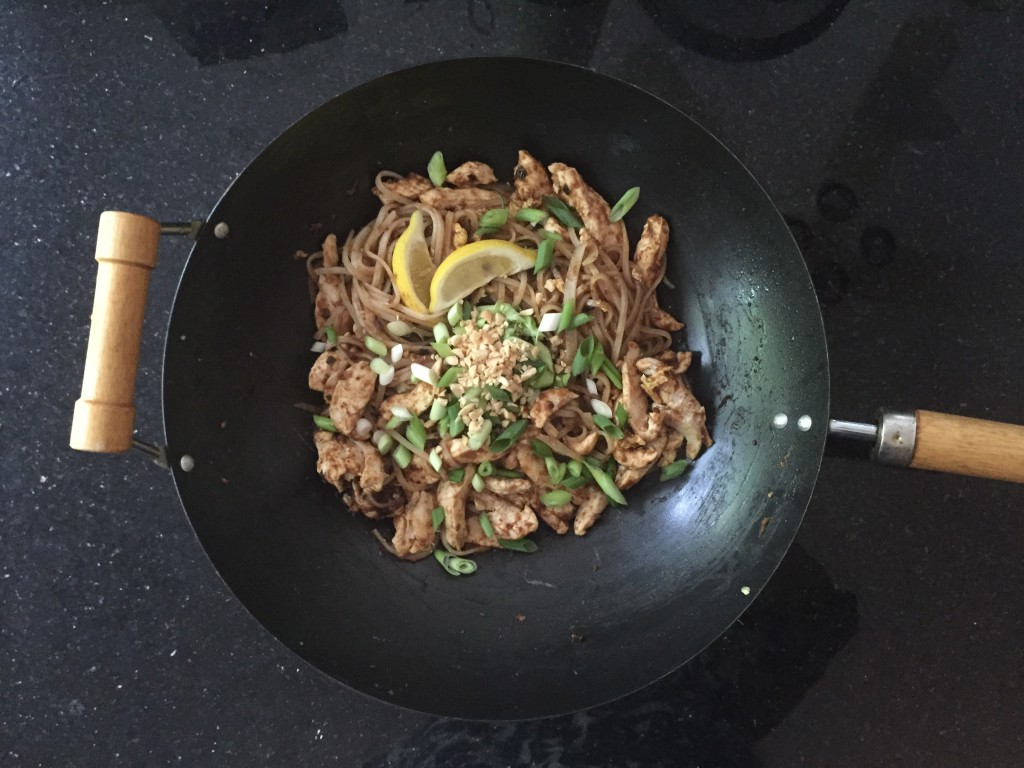 Instructions from Marion's Kitchen Pad Thai Kit
Includes
– rice stick noodles
– pad Thai sauce
– 2 Tbsp vegetable oil
– 400g thinly sliced chicken, pork or whole peeled prawns
– 1 egg, lightly beaten
– 1 spring onion, finely sliced
– lemon wedges to serve
Directions
1. Place RICE STICK NOODLES in a large heat-safe bowl and cover with boiling water. Use a fork to stir and separate the noodles then leave to soak for about 5 minutes or until softened. Drain noodles and rinse with cold water. Set aside for later.
2. Heat oil over high heat and fry your favorite meat or prawns for up to 5 minutes (2-3 mins for prawns) or until just cooked through. Push everything to one side of the pan and add egg to the empty side. Let egg set for a minute or until just starting to firm up. Break up egg with a spatula, then toss through your meat or prawns. Add softened rice stick noodles to the pan, along with my PAD THAI SAUCE. Use tongs to separate and toss noodles through the sauce until mixed through. Remove pan from heat and toss though spring onion. Serve with lemon wedges to squeeze over just before eating. Enjoy!