December first and we are already decking the halls. In truth, we're behind. We got our tree on Sunday as opposed to the Friday after Thanksgiving as we've started doing the last three years or so. Truth be told, I prefer waiting until the last minute, like the 22nd or 23rd and then going on a decorating bonanza. I've been thoroughly outvoted. And don't even get me started on the girls' pleas for Elf on the Shelf. To quote Dynamom at the Huffington Post,"Sorry, Kid. Elf on the Shelf is Not Going to Happen." Dynamom and I must share a neural pathway because her reasons as to why the Elf stays away are the same ones I have. Not to put too fine a point on it, but ain't nobody got time for that.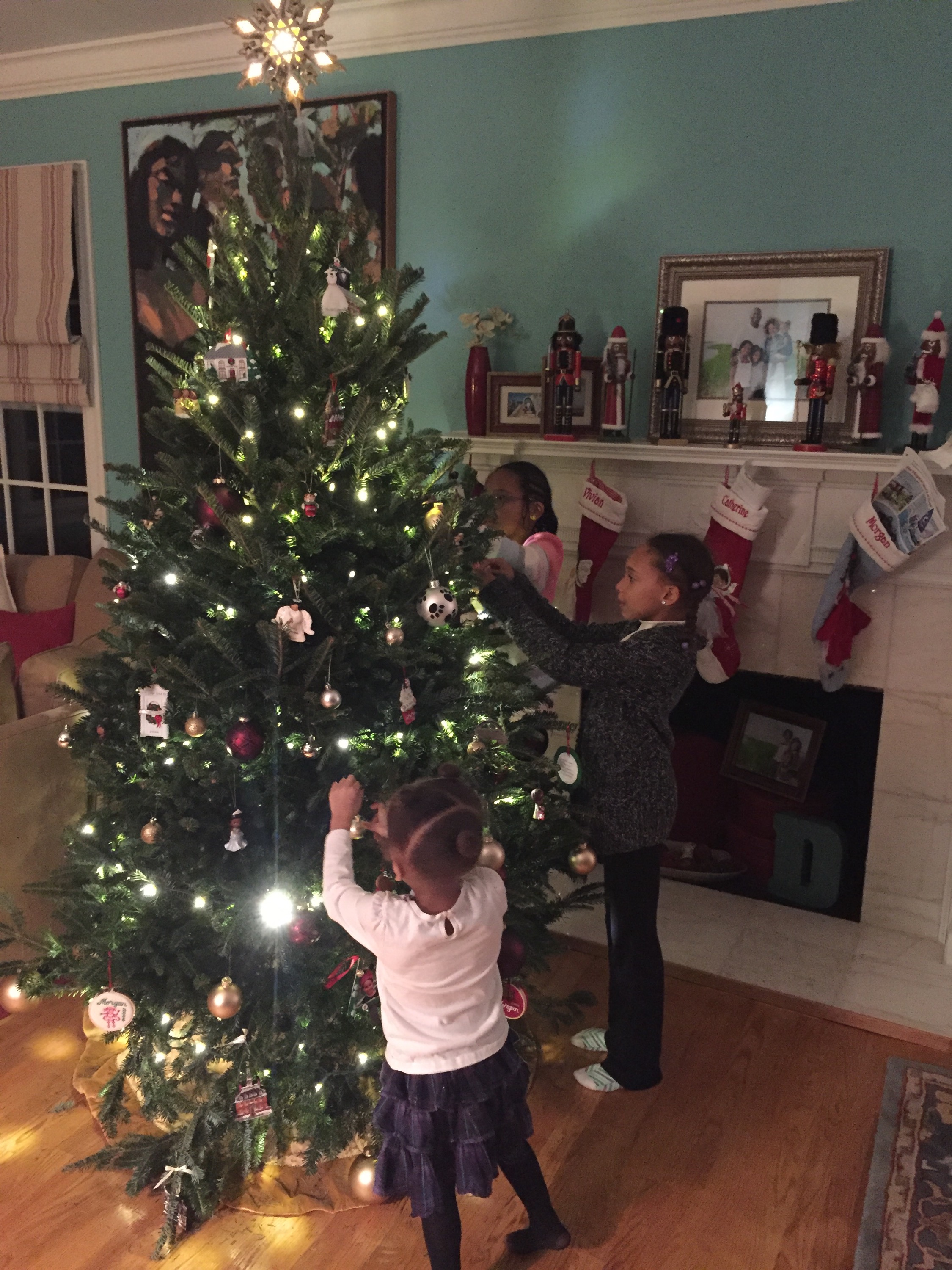 What I have done, though, has been a good start to this holiday season. The girls have received Advent calendars, which has led to itchy fingers, ready to pop open all of windows now. I guess they're getting patience as a gift this year. The nutcrackers are sending sentry on the mantel, our Santa shaped Christmas countdown calendar is hung and we've listened to more a Bing Crosby in the last 48 hours than we did in the entirety of the last Christmas season. The Hubs, a big fan of Bing, opens each holiday season with "Christmas in Killarney". It ain't Christams without him and the girls dancing a jig around the kitchen like a pack of peppermint scented leprechauns.
I may toss off a few "Bah Humbug" tinged glances here and there as the days peel away from the calendar and Christmas draws ever nearer. It's a stressful time of year; the girls provide me revisions to the Christmas lists every morning, like a verbal ticker running across the bottom of all of our interactions. Trying to find to find a sitter is harder than trying to get one of Kylie Jenner's lip kits. There are parties, open houses, brunches and cookie exchanges, which mans investing in either more gym time or elasticized waist bands. There's the balance between keeping the dream of Santa alive and just giving ourselves a pat on the back in acknowledgement of the good run we've had.There's the holiday card to design and deliver, which I actually enjoy trying to make better each year. There's securing, then hiding, then stealthily wrapping Christmas presents. There's the explaining of why we participate in Angel Tree and why we donate to the Red Kettle and why we gave as much as we could for the family in need that our neighborhood adopted this Christmas.
Yes, it's a stressful time of year, but I'd be lying if I didn't love it all just a bit more than I care to admit. Okay, maybe more than a bit, because even though I'll be trying to undress the tree at noon on Christmas Day, I'll gladly sit down when told, accept a heavily spiced glasses of egg nog and watch my family enjoy it all.
How do you celebrate the holidays? Tell me about it in the comments!
*this entire post was written using the WordPress app on my iphone5.